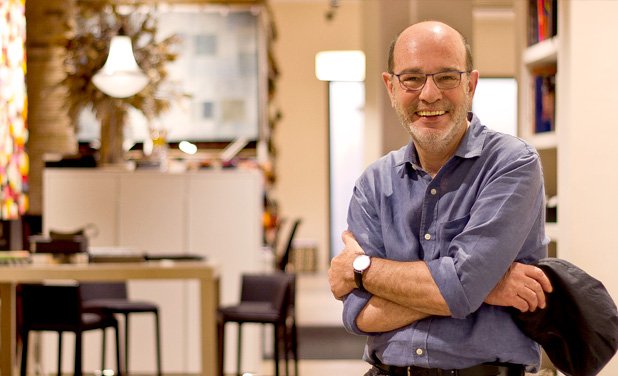 Juan Sastre is the owner of the Turkestan carpet shop in Barcelona's city centre, just around the corner from the famous shopping street Rambla de Catalunya. He runs the shop together with Brais and his son, Javier. They have specialized in high-quality nomad carpets. In 2018, Turkestan won the Carpet XL Star in the category "Exemplary Remodelling": To maximize their showroom space of 200 m2, they came up with a new shop concept that combines a flexible display solution with a digitized shelf system.
How did you get into the rug industry?
In my case, I am the third generation of a family business that my grandfather started, back in 1913. Since I was a kid I have heard all sorts of fascinating stories about carpets and the Eastern world.
What fascinates you about the industry?
I started travelling with my parents in 1974 and my fascination has done nothing but grow: all those trips, the stories about carpets and, obviously, the people that surround them, both artisans and merchants. In this industry you are constantly discovering and seeing new things. It is a world where the more you learn, the more you realize how little you know.
What developments do you expect to see in the rug industry?
I really appreciate everything that concerns and implies design and technical research – if the quality is kept properly. In my opinion, the recovery of ancient designs and weaving techniques are an almost endless source of ideas.
Do you have a favourite rug?
It is difficult to say, but my favourite carpet family is the tribal rug carpet family. Tribal rugs have an astonishing and powerful character thanks to their spontaneous weaving process and the cultural roots they inherit from centuries of tradition. Instead, the carpets made in small-town workshops or in city studios, with millimetric control over the manufacturing process, lack a genuine soul. To me, the fine Gabbehs represent a successful example of the tribal rug family.