Catifa Gabbeh de l'Iran
Ref. 60098, 127 x 180 cm.
Old Gabbeh circa 1930 woven by Lori tribes. With a very few knots per sqm (50,000) it's a perfect representation of this type of carpets and its expressive power.
Gabbeh, in farsi, means natural, unfinished, uncut, and therefore long hair. Carpets and textiles named after that are woven by nomads living in the Zagros Mountains, Fars province, which include the Lori, Bakhtiari, Qashqai and Khamseh tribes, and also semi-nomads who live in the villages of southwestern Iran.
These rugs, while simple, are sturdy. Woven with hand-spun wool and wefts up to 2cm. thick, that allows few designs. Usually made in vivid colors that come from mineral and vegetable dyes, or in the range of wool natural colors. Simple and linear designs, with basic floral and geometric motifs, animals and human figures, it gives them a very contemporary look.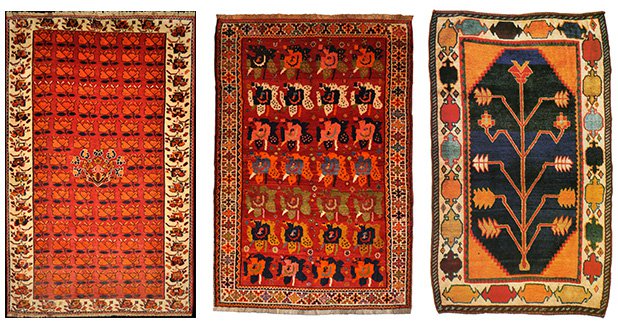 The Gabbeh rugs receive different names according to their quality, origin and / or style. Amaleh, Kashkuli and Luribaft are some of them.
Nomads move continuously between winter and summer pastures, and because of that, are not permanently in a geographical region. Therefore, they weave their handmade rugs on the floor, on folding horizontal looms.
In addition, the designs of these carpets are made by heart and depends on the momentary inspiration of each weaver, since it has always been the women who are managed this task, while the men are engaged in the grazing of the flock. As a result, the pattern in some of the carpets are not even distributed in an evenly way over the surface.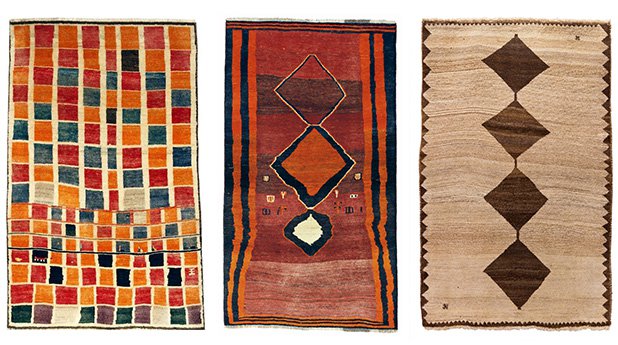 The production of these carpets, originally created for use them by their own, also became an additional source of income to the limited resources of nomadic shepherds and that is why they have come to our days as totally artisan pieces.
It is therefore, with their shiny and soft wool, and the emphasis on color above the detail and the design, they are extremely usable today as decorative carpets, especially in our current and  modern environments.
The current production of Gabbeh have a higher number of knots and are therefore, thinner and more resistant, conceived for use in our homes. Its designs are characterized by being an interpretation of the originals ones, adapted to current trends.